I have a Prestige 250, bought new in 1982 or 1983, and loved and looked after ever since - one chip on the headstock and that's about it as far as damage goes.  I have never been a big fan of the stock pickups, as they sounded a bit muddy to my ears, so I swapped the bridge pickup out for a DiMarzio Super Distortion about 20 years ago. As I now have a bit of spare time and a bit of spare cash, I want to have some fun modding it.  I am looking to replace both pickups and all of the electrics (but will keep all of the originals, just in case my kids want to sell the guitar after I have shuffled off).  It seems to me that, with the Prestige being such a heavy slab of mahogany and maple, and with the rosewood (or is it ebony?) board, I should be able to get somewhere close to sounding like an old Les Paul.  So I have been looking at specialist pickup manufacturers who make vintage PAF style pickups.  So far, Bare Knuckle have really caught my eye, and I have the choice down to their Stormy Mondays or PG Blues.  I'd be really interested to hear from anyone who has tried to do the same sort of thing, and what pickups they would recommend.  When neighbours and the wife allow, I play through a JCM800 50w 2x12 combo; the rest of the time I'm afraid I use a Line6 HD500X and headphones (I know!).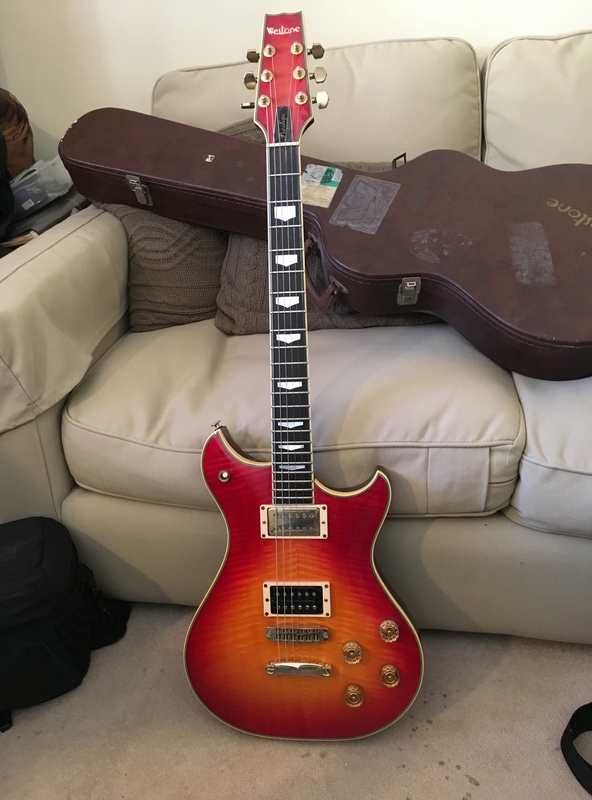 Alasdair George

Newbie




Number of posts

: 2


Location

: London


Registration date :

2016-10-04



Forgot my manners just then.  That was my first ever post, so I should have kicked off with a message of welcome - and a message of commiserations to those who have faced extortionate medical bills over the years from left shoulder pains caused by playing a Prestige!  I also have a non-weight relieved '81 Les Paul, and the Prestige is heavier (and a thing of beauty).

Alasdair George

Newbie




Number of posts

: 2


Location

: London


Registration date :

2016-10-04



Thing of beauty is right; lovely piece of kit!!

BK pickups are very, very good indeed - I have played guitars with them fitted; I don't own one! - but the price reflects the quality, and I'm not altogether convinced that the über-pickups are THAT much better than the less expensive ones... YMMV, of course!

I put a set of Kent Armstrong P90s in a project Vantage Avenger and am mightily impressed by tbe results; would BK Nantuckets or Bluenotes, or SD Phat Cats have been better because they are 4 times the price? I haven't seen the need to replace the OEM h/b pickups in any of my Matsumoku guitars as I like the noise that MMK45s and 53s make... oh, the exception being the faux UBC pickups in the Spectrum ST which are less than stellar: I turned mine into a faux Telecaster with a set of generic Telecaster pickups and adaptor rings!!

World's your oyster, buddy - have at it! 

(P90s rock WAY HARD!!)

_________________
FWIW, an after market esoteric nut is a solution to a problem that doesn't exist, and a great way to convert your money into someone else's.

corsair

Administrator




Number of posts

: 5225


Age

: 57


Location

: Hervey Bay, Australia.


Registration date :

2008-04-08



i installed a set of Seymour Duncan P-Rails on my Prestige 150. used the fancy trim rings that have mini switches to get all the combinations available. (knobs are 2V/2T)
supremo sounds, just great pickups. different pickup settings are quite distinct and provide a wide pallet of tonal options.
a bit costly, but worth every penny. a guitar of this quality deserves high end pups!

gittarasaurus

Financial supporter




Number of posts

: 1216


Location

: San Jose, CA


Registration date :

2011-05-25



Fail to see how you find the original MMK 75's muddy, they're far from it fitted with alnico II magnets as per your Bareknuckle favs.
Here's a Prestige fitted with a 57 classic PAF and a Tim Shaw(Gibson) set of pickups. Wired as a Les Paul and sounds like one as a Prestige 250 is basically a Les Paul Custom, just a slightly different shape...

Go for Gibson pups.  Not very expensive (over here in US anyhow...), and they would give you that Gibson sound!

The Chad

Financial supporter




Number of posts

: 2463


Location

: Harrisburg, Pennsylvania


Registration date :

2011-02-01



Try a set of these. Great sounding at a fraction of the price of the 'big names toys'. They're really a fine pickup, you won't be disappointed and if you don't like them I'll buy them back off you...

. I'm in London also.
http://www.ebay.co.uk/itm/Tonerider-Humbucker-Pickup-Alnico-II-PAF-Classic-AC2-for-Les-Paul-SG-etc-/381664387607?var=&hash=item58dcf86217:m:mX1wusdQybjqyWGmnWcaCRw
http://www.tonerider.com/alnico-ii

Similar topics
---
Permissions in this forum:
You
cannot
reply to topics in this forum