Last edited by falconer67 on Mon Oct 02, 2017 10:00 am; edited 2 times in total (Reason for editing : pics werent in the posting)

falconer67

Registered Member




Number of posts

: 3


Registration date :

2017-10-02




falconer67

Registered Member




Number of posts

: 3


Registration date :

2017-10-02



very nice guitar
a good full frontal photo would be helpful
close-up of the bridge too
looks like a further evolution of the
unknown model 1 >here<

serial number is much like the guitars shown on website (six-digits instead of the later standard 7-digits)
may
be an early version of the thunder style active electronics
can you describe the functions of the switches and knobs?
what is the scale length?
are the DiMarzio pickups original or new addition?
you can provide much information because you have one. now you are the expert.

thanks for sharing

gittarasaurus

Financial supporter




Number of posts

: 1280


Location

: San Francisco, CA


Registration date :

2011-05-25



Looks very similar to an Aria Thor Sound...

Adey

Financial supporter




Number of posts

: 356


Location

: Horsham, UK


Registration date :

2014-01-25



Nice guitar!! 

Value is purely subjective and we don't even try to do that here, sorry! 

It certainly does have an APII TS vibe going on, which isn't too much of a surprise both being Matsumoku guitars, but we don't have any information about production numbers....

The control postions in a horizontal line like that is reminiscent of some Electra models.. another Matsumoku line... The switches would be coil split, phase reverse and boost, yes?

_________________
FWIW, an after market esoteric nut is a solution to a problem that doesn't exist, and a great way to convert your money into someone else's.

corsair

Administrator




Number of posts

: 5539


Age

: 58


Location

: Takura, Australia.


Registration date :

2008-04-08



falconer67 wrote:Hi...I reallty need some more info abouth this model.
It has active electronics with 2 9 volt batteries, many switching options( boost)...
Hello Ramon,
As you've read, this looks like a number of later similar models made by Matsumoku and may well be a prototype or an early variation of one of them. The Thunder I-A has a circuit which may be similar to what you have.
CLICK HERE
for some information.
_________________
"A little song. A little dance. A little seltzer down your pants." -Chuckles the Clown
GUITARS
:
http://legend.barryeames.com/guitars.html
MUSIC/PIX/VIDEOS
:
http://getback.barryeames.com
(including Spectrum ST)
What the 3 switches do...i dont know but 1 switch is a booster for sure.
The middle knob has a center point in the middle and that seems to be a equalizer off some kind, weird stuff !
I just have the guitar so i have too figure out what everything does yet.
I was told there were only 60 made off this model and has some significant value ( 800+ euro's), dont know if thats true.
As far as i can tell the Dimarzio are Original and not put in at a later time.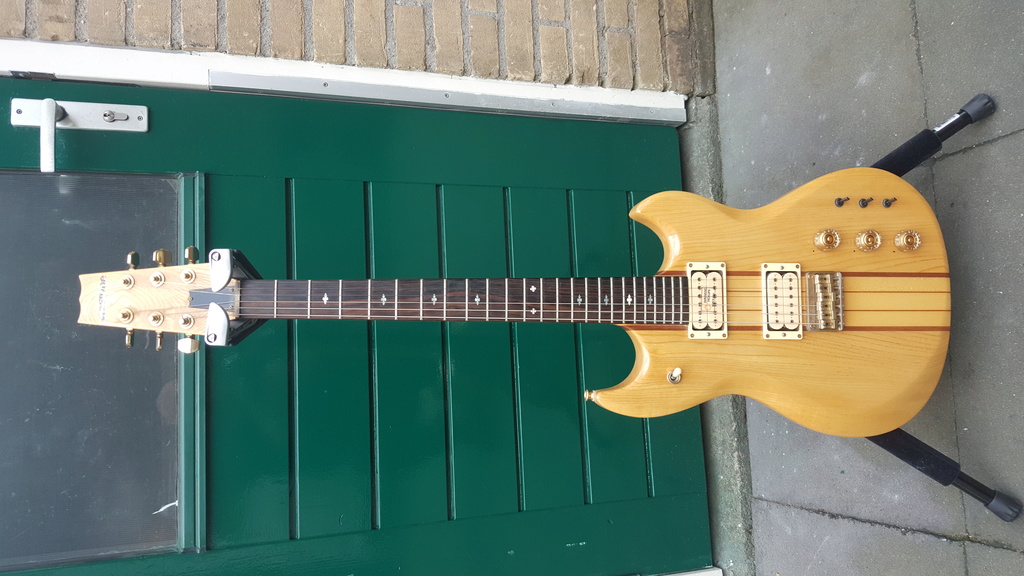 falconer67

Registered Member




Number of posts

: 3


Registration date :

2017-10-02



falconer67 wrote:What the 3 switches do...i dont know
Ramon, click on the link in my post #6 above. That will help you understand what the switches do.
_________________
"A little song. A little dance. A little seltzer down your pants." -Chuckles the Clown
GUITARS
:
http://legend.barryeames.com/guitars.html
MUSIC/PIX/VIDEOS
:
http://getback.barryeames.com
(including Spectrum ST)

Similar topics
---
Permissions in this forum:
You
cannot
reply to topics in this forum